Before the chill arrives, start thinking about how you can create a living room that's the perfect winter retreat.
Cosy, plush and warm are all features you want to see in the ideal winter living room.
If you're craving the ultimate living space to suit your needs this winter, we have a few ideas to get you started.
1. A fireplace
Nothing paints a more perfect picture of winter than cosying up beside a wood burning fire place. Fortunately, there are now heaters that provide all the romance of a traditional fire place without all the mess and fuss.
2. Heavy curtains
A key item for a winter living room is heavy curtains. Plush curtains will create a luxurious, wintery look, but they also provide insulation for your windows.
Around 40% of your indoor generated heat can leak out through your windows.
Invest in curtains fitted above and beyond your window frame and touch the floor, leaving no gaps for air to escape through. Also consider tightly woven fabrics or thermal lining for better insulation. Warmth isn't the only benefit either.
"Curtains not only help with insulation but with sound absorption," interior stylist and renovator Emma Blomfield explains. "Also if you hang them in the right position, they also help draw the eye up and make your ceiling appear higher than it actually is. So, have the curtain rod up against the ceiling instead of hanging it just above the window and having a gap before the ceiling starts."
3. Winter foliage
While greenery looks lovely indoors all year round, plants like palms and succulents have more of a summer vibe. To really take winter decor to a new level, consider lush, emerald, evergreen plants that are hardy and happy in low light, like pothos or calathea varieties.
Really enhance a moody tone by buying some deep coloured flowers (fresh or dried) or long twigs for added drama.
4. Play with texture
Texture can be even more powerful than colour. While we all want that dark and cosy hibernation station for winter, if you have a naturally light-hued and airy space, look towards the Hygge trend.
As this Scandinavian-led trend proves, light coloured interiors can still be made wintery through the introduction of different textures, like chunky knits, shag pile or wool.
Consider these plushier fabrics when decorating with rugs, cushions, throws and curtains.
For a cosy space too, consider warm-tones instead of cool tones, Emma suggests.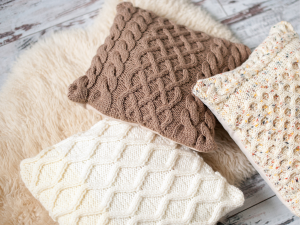 5. Add some mood lighting
The sun will go down earlier and you'll be wanting to keep those curtains drawn of an evening. Add to the atmosphere by ensuring your lights and lamps have warm-toned globes.
If your ceiling lights are too overbearing, invest in a nice reading lamp with a warm globe to complete your cosy reading nook.